Book or see detail our North Shore beach snorkeling tour. 808-304-9193
What you should do while you are in Hawaii? Grand circle island tour? zip-line? horse riding? Sky diving? yes all things I mention I recommend but don't forget you must go snorkeling tour in North Shore! Specially this pupukea beach park sharks cove is one of the kind in Oahu. It is marine sanctuary, NO boats allowed to come in the bay. Our snorkeling guides are skilled and knowledge of the area and Ocean, all permitted by state of Hawaii. Your safety and smile is our primary concern.
What is our previous guests say? Tripadvisor review
As I said, any boats are not allowed to come in the bay so we only do jump in the water from the shore, it is beach snorkeling but we take you open water where other tourists does not go by their self.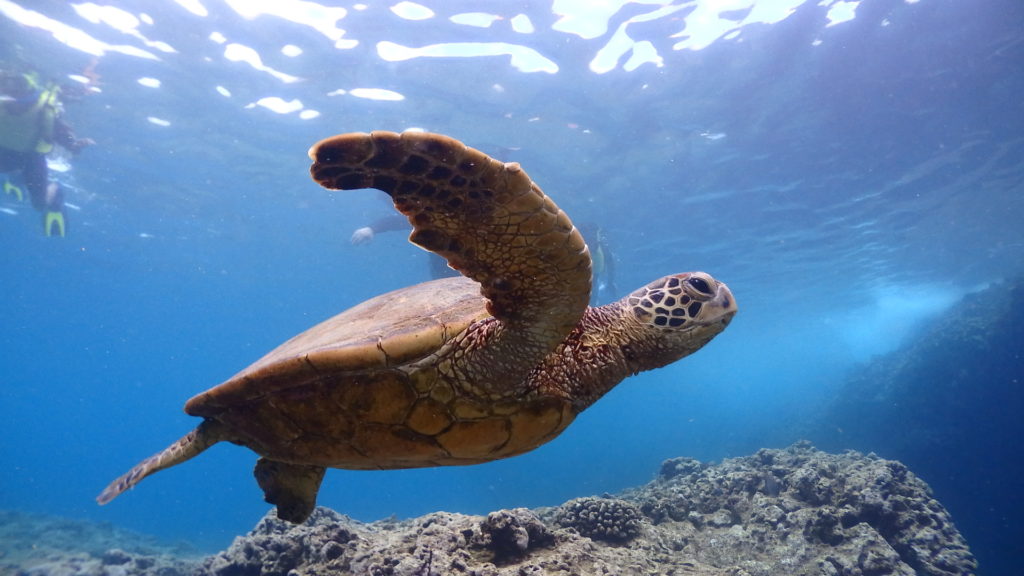 This North Shore snorkeling point is very very good chance to see Honu (Hawaiian green sea turtles) especially we know where they mostly hang out. School of Tang fish and Hawaiian frag fish. Big blue parrot fish with Hawaiian X'mas wrasse also look for Hawaii state fish, humuhumunukunukuapua'a, occasionally you will meet (you've never known!) spotted eagle ray, Hawaiian sniper dolphins or super rare Hawaiian monk seal too!
I really have to say this We are asked a lot of people, "is there any SHARKS? I don't want to see sharks while I am swimming. " The place called "sharks cove" just because when you look at the bay from above it looks like a shark open its mouth so the name is not come from there are lots of sharks. I heard from scuba diver there are sometimes "reef sharks" in the certain cave which you do NOT have to afraid of during snorkeling but me personally who does free diving a lot at sharks cove go into the cave, I have never seen any sharks.
Itinerary of our North Shore beach snorkeling tour. Book or detail from here
9:30 am or 11:30 am Meet our professional guide at "North Shore Bike trail"
snorkeling and safety instruction (This is very important!!)
The guide will see how you can do in the water at shallow area before we heading to deep Ocean.
Water time will be about 60 minutes. Tour time will be about 90 minutes.
Any question please feel free to contact us.
808-304-9193 (Call, Text or whatsapp)
If you ask me what is must things to do in Oahu Hawaii.
1, Guided snorkeling tour
2, Surf lesson
3, Hiking in Hawaiian beauty, Waikiki is not the place to hang out!
4, Makapuu look out (This IS blue Hawaii.)
5, If you are first time in Oahu, go circle island tour
We do private tour on the land too! Top rated private tour company. Since we started tour in 2016, we have got 2016, 2017 and 2018 certificated of excellent by tripadvisor.