Please note this hidden waterfall is on a private property. You do need a permit to go hiking to this spectacular waterfall.
Just before the trail there is beautiful basil farm (it really smells so refreshing!), Ridge Trail, great views of the windward shore,  wonderful pine trees, Hawaiian flora, wild orchids, Hawaiian ferns, and wild apple trees (Do not eat!!). You may even see mongoose crossing by before you pass the amazing small tree tunnel before you reach the waterfall. Once you get there, take in the beauty around and then enjoy a swim, as you can swim in the waterfall.
Location: North Shore
Elevation: higher than 1500 feet
Distance: 5 miles (one direction)
Duration: 90 to 110 minutes (one direction)
Hiking level: Middle
Oahu's Hidden Waterfall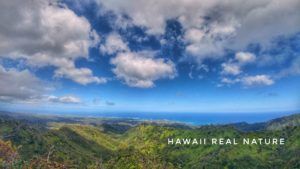 This Hidden waterfall is located on the North side of Oahu. It is definitely not a touristy place. We've walked it a few times, yet we have never seen anyone on the trail or at the waterfall. The waterfall is huge, it's only about 15 ft, but this is one my favorite waterfalls on Oahu. Why? Because where it is at is so quiet, so peaceful and there are no people. You can also find Hawaiian endemic trees and the flower Ohia-Lehua, which many native Hawaiian traditions refer to as the tree and the forests it forms, as sacred to Pele, the volcano goddess, and to Laka, the goddess of hula.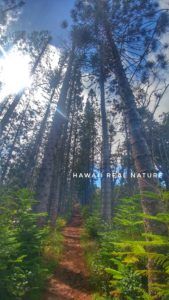 As far as the hiking level, I would say "Intermediate", as it is is not an easy hike. I don't recommend it if you are out of shape or not a very active person. This hike is not completely in the rainforest the time the whole time, you have to walk under the sun half of the time. I recommend bringing a hat, water and sunscreen. Bring more than 1.5L water for each person. We usually bring a small lunch and snacks for resting at the waterfall before we come down another 1.5 hours hiking in the warm Hawaiian sun. Definitely wear shoes, It can be muddy. We recommend NOT going if there are heavy clouds on the mountain, you may experience yourself in a flash flood.
When you see the sing going to the waterfall, which turns right to go deep into the forest, you can keep going straight to go to Laie summit. I am not sure I was on the summit, but it wasn't too far from the sing. It's about 20 minutes to walk to the summit.
This is part of the Koʻolau (which means "windward" in Hawaiian) Mountain Range, is where the volcano is thought to have first erupted on the ocean floor more than 2.5 million years ago. The remains of this ancient volcano lie as massive fragments strewn nearly 100 miles (160 km) over the ocean floor to the northeast of Oahu.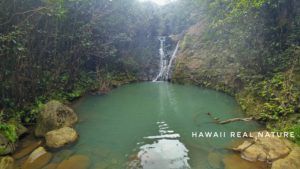 The modern Koʻolau Mountain form Oahu's windward coast and rise behind the leeward coast city of Honolulu.
If you are interested in a private tour to explore all of what Oahu has to offer, such as hiking, snorkeling, surfing, standup paddle board, or anything you dream of while in Hawaii, contact us. We know of many hidden places, beyond what you can find online or even exploring yourself.
Hawaii Real Nature Tours
Call or WhatsApp: +1-808-304-9193
Email:  hawaiirealnature@gmail.com
Don't forget to leave us message or email us if we don't answer the phone.
Mahalo for reading.
*Mahalo (thank you in Hawaiian)