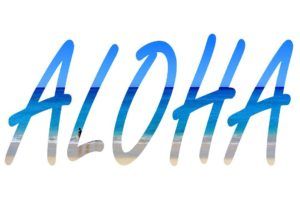 The Hawaiian islands are made of eight islands, on being private. Each island offers its own unique captivating sites, activities,and experiences.  Although these seven islands make up the entirety of the state of Hawaii, each island stands out individually for its own beauty and attractions.  While this alone makes Hawaii a great travel destination, it can also be somewhat intimidating when trying to plan the perfect things to see, activities to do, and to really take in the beauty & culture of Hawaii.
As one of Hawaii's top rated activity and tour guides, we wanted to share our pick of the must see sites & activities to get in on your Hawaiian vacation.  Although we are based out of Oahu, we offer custom tours on all of the islands. We know that there is plenty to see & do on all of the islands. and we want to share our knowledge of this tropical paradise with all who wishes to know!
Big Island
The big island or the island of Hawaii is the newest of all the Hawaiian islands & probably is one of our top picks when it comes to sites and attractions. Why? It offers an array of natures divine beauty that cannot be found many places.
Kilauea Volcano – Being the baby of the pack, the Big Island, also know as the island of Hawai'i,  is the only island that has an active volcano on it! Erupting continuously throughout the years, the lava can be seen flowing into the ocean at times which is pure beauty in itself.  You basically have a front row ticket to watching nature create land!  Hawaii Volcanoes National Park is home to Kilauea Volcano and Pele the goddess of fire who is said to live in its depths.  When you see lava flowing it is said it's pele letting down her hair! She's one goddess you don't want to mess with.
Waipio Valley-  A.K.A." The Valley Of Kings" got its name for just that reason. It was once home to Hawaii's famous king, King Kamehameha I.  Growing up in the valley as a child, Kamehameha was partial to the political and religious happenings that found their center there.  Viewed and held as sacred by the Hawaiian people this valley offers breathtaking waterfalls, black sand beaches, a natural river flowing into the ocean, as well as a prime surfing spot for local surfers.
Kealakekua Bay-  This beautiful bay of sea green & mesmerizing blue water is a State Historical Park.  Boasting the Captain Cook Monument, which marks the landing spot of one of Hawaii's first western explorers, it is also a protected marine conservation.  With beyond amazing snorkeling detailed by a variety of beautiful fish & other sea life to be seen, it is also a resting spot for whales during their winter migration months.
Oahu
Pearl Harbor –  Located on the island of Oahu, the Pearl Harbor monument which is home to the USS Arizona Memorial is a wonderful history lesson in itself.  Representing the attack on Pearl Harbor and what injected the United States into World War II this historical  monument is a must see when visiting Oahu.
The Polynesian Cultural Center– With 42 acres of beautiful land the Polynesian Cultural Center is a dynamic attraction. With different areas themed to express the diversities that help make up Polynesia, there are activities such as spear throwing, coconut husking, and canoe rides to participate in.  This center showcases Polynesia and its beautiful culture and all of it's unique offerings.
Diamond Head- Diamond Head State Monument offers rocky hiking trails that lead to breathtaking views of the Pacific Ocean and the city of Honolulu.  At the end of its trail there are 99 steps deemed "The Stairway To Heaven"  because of its steep incline that leads you virtually up into the clouds.  Known to the locals as Le'ahi, this beautiful monument is a must see for those that like a little adventure.
Kaua'i
Na 'Aina Kai Botanical Gardens- This landscape of 240 acres of lush botanical gardens, offers spectacular views, waterfalls to be seen as well as bronze statues laced throughout the gardens.  A place to immerse yourself in the naturalistic beauty and tropical vegetation that the island of Kauai has to offer.
Na Pali Coast(Crawlers Ledge)- The beautiful Na Pali Coast of Kauai boasts spectacular views of Sea Cliffs, Kalalau Hiking trail, rivers and valleys.  Part of the Kalalau trail known as "Crawlers Ledge" was given the name because of its narrow passage around the ledge of one of the towering sea cliffs.  Although a bit dangerous the views to be seen and the thrill you will experience from completing this trail is undeniably worth it!
Maui
Road To Hana- With 52 miles of hairpin turns, bridges, waterfalls, and road side stands run by the locals, this is one Maui adventure you should not miss out on!  The views are spectacular and the local offerings being that of fresh fruit, baked goods, and beautiful locally made handmade jewelry are the icing on the cake of this adventure.
Ohe'o Gulch- also known as the 7 sacred pool because of its numerous pools and waterfalls to be seen and utilized. Part of the Haleakala National Park System, ranger stations can be found as well as campgrounds for visitors to enjoy.  What's even better about this place of beauty is it is at the end of the "Road To Hana" making it a great destination and place to camp for the evening after you finish that harrowing road of adventure!
While there are so many places of beauty and wonderful amazement to be found throughout all of the Hawaiian Islands, these are a few of our top picks. We know from experience and from talking with many visitors on our tours and snorkeling expeditions, that one trip to Hawaii is never quite enough.  The breathtaking beauty, cultural diversity and simplistic way of life surrounding those in Hawaii, makes you understand why those visiting love to come back again and again. You can never take in enough of the beauty and culture that can only be found among this spectacular island chain.
If you have any questions or would like to book a private or small group tour, give Hawaii Real Nature Tours a call. We are locals who love to help those visiting "experience" Hawaii.
Aloha Nui Loa – Lots of Love~