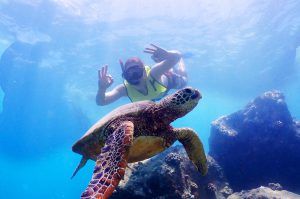 "North Shore beach snorkeling tour"       
This special place only allows for snorkeling during our summer season MAY to SEPTEMBER. This is due to extreme Ocean conditions on North Shore Oahu. We do not provide pick up service, but have you meet us at North Shore bike trail. This small group, guided snorkeling tour takes you to open water, safely and enjoyably. We strongly recommend you book as private if you are first timer or who cannot swim. Our guides will make sure that we fit the tour to your experience. Lean more/book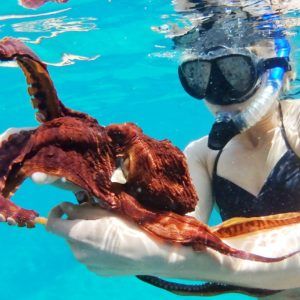 "Private tour with activities"
This is a 100% custom tour for you and your family. Snorkeling is our passion and we take you to some of the best places on Oahu. We are professional snorkeling guides with knowledge of marine life, ocean conditions, and are Ocean Rescue and CPR trained. We've been skin/free-diving in the Ocean for many years. 6 hours to 8 hours (or more) private tour. This private tour is all up to you, some guests want to spend all hours in water, visiting different snorkeling spots or snorkeling for one hour, and the rest of the time we can show you the beautiful island of Oahu… like Grand Circle Island Tour or deep North Shore Tour. We can make your private tour what you really want to do/see while on the Island of Oahu! Lean more/Book.
Snorkeling is MUST MUST MUST thing to do while in Hawaii.
While we think it to be one of the very best experiences, Hawaii does have a very high rate of  water accidents because visitors do not understand the ocean and its power. This is one of the main reasons why we recommend choosing a "guided" snorkeling tour.  Let professionals instruct you and be there to assist you in the water.
I am rescue diver, dive master, free diver, underwater photographer, and am very familiar with the Ocean. I will NOT go in unknown water by myself initially any of place. This is not to scare you but the fact is that the water can be unsafe if you do not respect it. If something happens to you or your friend, 100 yards off the shore, what can you do? If the current pushes you way out, what can you do?
We rescue a lot of people (not our guests), who lost their floating device, who cannot really swim, who have kids in a panic, etc. I've recently did CPR on one person (NOT OUR GUEST).  Someone found him at bottom of the ocean.  I took his snorkeling mask off, which was full of water, put him on the beach and immediately started CPR. I asked his friend to scream his name and ask him to come back, I asked a lady who was by his feet to massage his feet, which she did for 5 or 6 minute later (maybe more longer). YES he came back! Fire fighters arrived and took him to the hospital. This happens in real life.
That's why we are here.
We know the Ocean, we know the marine life, we know the rules of nature, not only do we have knowledge of the water, we have experience in the water, we are professionals. I hate to see in the news that people lost their life in the water, especially tourists. You are not visiting the islands to experience a water incident. You come here for fun and to have wonderful, memorable time. Please let us assist you to have fun, safely. We will share our knowledge of Ocean Safety and marine life information with you. We will take you to open water that we feel is safe.
Respect Nature.
Email: [email protected]
Call or WhatsApp: +1-808-304-9193