Like we said in our last post, all of the Hawaiian islands are uniquely beautiful places of themselves.  Maui, Hawaii does not stop short in the beauty or activity department.  In fact Maui has some of the best scenery intertwined with Old Hawaii culture, spectacular natural gardens & waterfalls, all laced with incredible Hawaiian sunshine!  Hawaii Real Nature Tours is here to offer advice, as well as great group and private tour packages to Maui. We want to enable you to enjoy the magnitude of beauty and adventures while visiting Hawaii. 
Place To Visit and See While In Maui
"Road To Hana"
52 miles of hairpin turns, one lane bridges, and a 25 MPH speed limit its worth the 2.5 hours it usually take to navigate this harrowing road
Breathtaking waterfalls & sights to be seen
Local made roadside stands offer fresh fruit, baked goods, handmade jewelry
One of the top highlights of your visit to Maui
Nahiku Marketplace
Twin Falls
Wai'anapanapa State Park (Black Sand beach)
"Haleakala Mountain"
10,000 feet above sea level
Haleakala Summit offers best sunrise you will EVER see!
1.5 hour drive to reach summit, beautiful mountain scenery along the way
Top of the mountain can be seen floating in the clouds from the Big Island
"Maui Tropical Plantation"
Gorgeous property boasts organic produce from resident Kumu Farms
Informative & fun tram tour takes you throughout an exploration of the plantation
Mill House Restaurant & Bar run by Maui's Chef of the year Jeff Schear
Dining ot the outside Maui Chef's Table allows for a chef interactive 7 course meal prepared before your eyes
"Ohe'o Gulch" ( 7 Sacred Pools)
Numerous pools & waterfalls flowing from East Maui Mountain Valley's to be explored
Part of Haleakala National Park system
Ranger station public bathrooms, camping grounds
Fun overnight camping trip to end your Road To Hana adventure!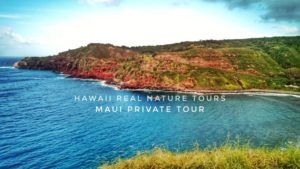 These are just a few of our favorite adventures on Maui.  There are so many day adventures, snorkeling expeditions & island beauty to explore for you and all of your friends and family.  Hawaii Real Nature Tours loves sharing Maui's beauty & culture while guiding visitors around the prosperous island.
There is so much natural beauty waiting to be explored!
Contact us today to find the right tour package for you.  If you are planning a trip to Oahu we are located there as well. We have guided tours in Oahu and Maui, and even other islands if you wish. Our snorkeling adventures, surf lessons, all day adventures, and custom tours cater to you and your Hawaii vacation. Our tours are quaint and are meant for groups of no more than 11 people.  As residents of Hawaii for many many years, we are familiar with and knowledgeable about most places across the Hawaiian Islands, including special sites, roads, trails and beaches.
We also are able to tailor our tours to fit family members of all ages.  Our main focus is making sure EVERYONE has the opportunity to experience Hawaii's beauty & culture.