We often hear about the beautiful beaches, sparkling ocean, cool Hawaiian breezes and beauty, but rarely do we hear about the other side of Hawaii, vandalism and theft. I write this post not to scare or worry you, but inform you of real precautions to take while on the island of Oahu. Everyplace has their share of crime, but often times tourists are great targets in Hawaii. Hawaii is beautiful and a one of a kind place, but please be smart and aware of while enjoying all the islands have to offer.
Mount Tantalus on the  southern Koʻolau Range of Oʻahu
I go pick up the guests from the Honolulu airport and go straight to Tantalus where to show them the beautiful Honolulu view.  I stay back at the van, since this spot is has a high car theft rate.
When we got Tantalus, there are around 10 people at the parking lot. I let my guests walk down to the view point, I stayed at the car when I realize one of the vans (rental van) window was broken….Oh no!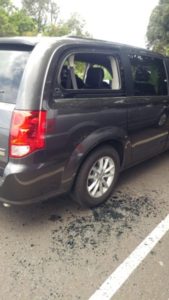 They seemed to be tourists so I asked them did you already call 911? They said yes, but one of the guys did not speak english. He asked me for help in Japanese (he is Korean does not speak English, but Japanese.) and he pointed to another car that was also broken into!!!
These poor Japanese ladies also got had someone break into their vehicle. Yes, there are two cars that one car thief got to.
Tantalus is one place where there is a VERY high risk of  getting your broken into or stolen. The thieves are actually waiting in the bushes and waiting for their opportunity the whole time.
Don't leave ANYTHING in your car while parked at a look out or open lot in Hawaii. If something is seen in your car, thieves will break the car window and take your stuff. I mean don't leave ANYTHING, even small change, water bottles, lunch, jackets, shopping bags, etc. They take anything they have the opportunity to. If you need to leave anything in your car, put in the car trunk or under the car seat so they cannot see them. I know it is sad, but unfortunately this is a fact in Hawaii.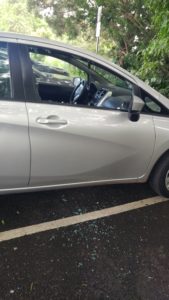 Did you know Honolulu's (not the whole state of Hawaii) murder rate is higher than LA or NY. It is a very highly traveled tourist destination, meaning criminals think there is $$$ around, at least from their point of view. Purse snatching is a very common incident in Waikiki and Kailua.
Don't think this is true paradise. This is the result of a low income, high cost of living state. There is also a very large homeless problem.
Stay out of china town, especially night time or in night clubs on dark streets. Be aware of your surrounding if you go t the beach at night. DO NOT GO Tantalus at night, after tour buses are gone (after 8:30pm). Tantalus is one of the more dangerous places in Oahu after dark.
The island of Oahu boasts beautiful beaches, blue coast lines, Sacred mountains and valleys, wonderful waterfalls, rain forests to hike, and people full of the "aloha spirit". Hawaiian music makes you feel lazy and relaxed and the weather is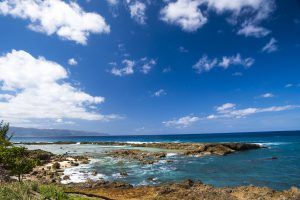 perfect. Known as the Rainbow State, Oahu has very different towns all together.  Waikiki is one of the most world famous towns, where there are a lot of restaurants, shops, beaches, activities, and hotels. The North Shore is laid back, with the historic Haleiwa town, and top surfing beaches. You get to enjoy the garlic shrimp lunch wagon, shave ice, Acai bowls, surf shops, and of course turtle beach.
In Kailua there is America's best beach Lanikai. Kayaking at Kauai beach is popular, the variety of shops and the pancake restaurant make it a place to visit. West Oahu is hidden gem with isolated beaches and sacred places.
Hawaii has everything you need on your vacation, but please remember Hawaii also has its darker side of crime and violence.