While enjoying your days on the beach or snorkeling in the clear and warm tropical waters of Hawaii, you will most likely get to see a sea turtle, basking in the sunshine or swimming along with the other marine life inhabitants. It is important to understand a little more about these beautiful sea creatures, as well remember to respect the Honu & their environment.
Snorkeling with Sea Turtles is probably on your list of things to do while in Hawaii.
While you may think it to be safe to touch them or get close, it is best to stay at least 10 feet away from the Honu's. In fact, sea turtles are protected under the U.S. Endangered Species Act and other Hawaii State Wildlife Laws.
Should you encounter a Honu sleeping on the beach PLEASE keep your distance and do not disturb him/her. Often times when turtles feel threatened or annoyed they will exhibit signs such as "yawning" and opening and closing of their mouth or "flipper swipes" in which they use their flippers to swipe over their foreheads. In sea turtle language this means "please don't bother me".  After all no one likes to be bothered or interrupted when taking a nice afternoon snooze!
Our Oahu snorkeling and tour guides at Hawaii Real Nature Tours love to share our knowledge on Honu's, other marine life and beautiful sights found on the island of Oahu. Check out one of our snorkeling tours, sightseeing tours or private tours that we have to offer! Make sure you see all there is on your tropical Hawaiian vacation!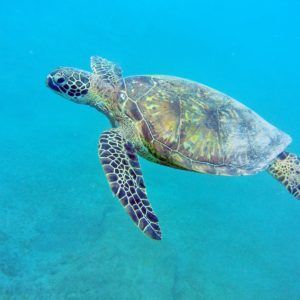 A Little More About Hawaiian Sea Turtles – "The Honu"
There are 7 different species of sea turtles in the world, and ALL 7 are considered endangered or threatened. Three of these species of sea turtles inhibit the Hawaiian Islands and many times can be found napping in the sun on one of the many beautiful beaches. While sea turtles are definitely beautiful and intriguing creatures, these ocean reptiles should be given their space. Many times during our snorkeling tours, you will see a sea turtle, or as natives call them Honu, swimming amongst the fish looking for seaweed (limu in Hawaiian) to munch on– truly one of the best sights to see on one of our amazing snorkeling adventures here on Oahu.
3 Types Of Sea Turtles Found In Hawaii
Green Sea Turtle – Also referred to as Honu, which is the most common to be seen here in the Hawaiian Islands.
Hawksbill Sea Turtle – also referred to as Honu'ea, are one of the smallest species of turtles out there and are omnivores. Most species of sea turtles are herbivores
Leatherback Sea Turtle – are able to live in much colder waters than many other sea turtles. They also love dining on Jellyfish!
Interesting Sea Turtle Facts……Did You Know…???
Sea Turtles have been around for more than 100 million years, even predating the dinosaur!
The Hawaiian Green Sea Turtle weighs up to 400 pounds on average
Sea Turtles found in Hawaii's tropical waters tend to live where an abundance of seaweed can be found
Female sea turtles who are nesting return to the same beach they were born on to lay their own eggs!
Hawaiian Sea Turtles will travel up to 800 miles from their normal feeding grounds just to lay their eggs!
Sea Turtles tend to nest at night because light and movement tend to scare them and make them uneasy. Laying their eggs takes concentration and hard work!
The exact lifespan of a sea turtle is unknown!
The Hawaiian Sea Turtle can take 40-50 years to reach full maturity, talk about long teenage years!
Tiger sharks which can be found in Hawaiian waters are a sea turtles #1 predator
Sea Turtles are plagued with a papilloma virus like disease that shows itself in the form of white cauliflower like tumors. These tumors eventually affect their digestive system, breathing and mobility. Scientists are not sure where this disease comes from and are doing more research to help the turtles combat it!
Remember to respect the Honu & their environment. Let's keep them thriving for futures to come!
Want to join us on a snorkeling tour adventure? Contact us or book one of our tours online!
We are open from 9:00 am to 6:00 pm, Hawaiian time.
Get In Touch With Us: