Details
Join us for surf lessons or stand up paddle board lessons on Hawaii's famous North Shore. Learn to surf our stand up paddle board with our instructor Robert, our experienced surf instructor. He will help you master the basics and improve on what you may already have down. You'll to learn to surf at a North Shore surf spot that is right for your skill level. We will also visit or tour a few famous North Shore spots.
Departure/ Return Location
Waikiki selected hotels
Departure Time
8:30 am to 9 am, depends on hotel location
Return Time
Approximately 4:30 pm to 5 pm, depends on hotel location
What to bring
Swim suite, towel, water bottle, sunglasses, suncreen, dry clothes for after snorkeling
Included

| | |
| --- | --- |
| Professional Instructor | Stand up paddle board rental |
| Surf Lesson | Transportation |

Not Included

Lunch
Waimea Valley Admission Fee
Gratuity
Itinerary
Tour Itinerary
8.30 AM – 9.30 AM: Transportation
9.30AM – 10.30 AM: Surf Lesson
11.00 AM – 12.00 PM: Waimea Valley or Waimea Bay
12 PM – 1.30 PM: Macadamia Nut Farm and Turtle Beach
1.30 PM – 3.30 PM: Lunch and SUP (Stand Up Paddle)
4.30 PM – 5.00 PM: Return
FAQ
FAQ
Q: Which hotels do you pick up from? (click to see map)
A: Prince Waikiki, Lewers st (near Hokulani Hotel), Waikiki Beach Marriott.
Q: What are we going to do for lunch?
A: We are going to stop at a local lunch wagon.
Q: What should we bring?
A: Towel, water, sunglasses, sunscreen and a swimsuit. Please bring dry to avoid sitting in wet clothes in our van. Please wear a swimsuit under your clothes there so that you are ready to jump in the water. There will not be time to change your clothes before your surf lesson.
Q: Can we eat/drink in the vehicle.
A: Yes but please be respectful. Please do not bring coffee/tea cup or open can drinks. Screw top drinks are fine.
Q: What do you mean by "Waimea Bay or Waimea Valley" on your itinerary?
A: We have a dedicated an hour for you to enjoy either Sacred Waimea Valley ($16/adult) or the world-famous Waimea Bay (you can swim in here summer, but the waves are too big for swimming in the winter).
Q: We have never tried surfing or stand up paddle (SUP), can we still book?
A: Of Course, Why not! Not many people have experienced these activities. Your professional instructor will help you to get the basics down and experience your first ride! Stand Up Paddle is not too difficult, a lot easier than surfing. So don't worry, you are in good hands!
Q: I have a disability, can I still book?
A: As long as you can step up/off from our van. We, unfortunately, do not have space for a wheelchair, we are very sorry.
Surfing and SUP: it really depends on what your disability. It is our pleasure to help you as much as we can. Please contact us to find out what is right for you!
Q: What is your cancellation policy? (This only applies to those who have booked directly with us. If you booked with a third party please see their cancellation policy.)
A: Reservations canceled at least 73 hours prior to the tour receive a 100% refund. No refunds will be issued for cancellations within 73 hours or no-shows. Tour date can be changed for a fee: 20% of tour fee within 73 hours. No change fee if over 73 hours before your tour date.
Photos
Book Now
More Information
North Shore Surf Safari
Surf lessons, Stand-up paddle, Sea Turtles and Local food, The Real Hawaiian Experience & Beauty of the North Shore.

Pick up services are available from Waikiki selected hotels.
On Our Small Oahu Group Tours, We have limited seating (only 11 guests per tour).
Welcome to our unique Oahu Surf Safari Tour. Visit one of the most popular tourist destinations, the North Shore of Oahu, a small surf town in Haleiwa. Our North Shore Surf Safari Tour starts with a professional surf lesson. Learn to surf while you are in Hawaii, especially while visiting the surfing capital of the North Shore. First timer and beginners are welcome! Don't worry our instructors will help you to catch your first wave!
Next, we will take a break from the water and show you the majestic and world famous surf beach, Waimea Bay, as well as the North Shores Turtle Beach. Learn about Hawaiian legend and Hawaiian wildlife, and you may even see Hawaiian green sea turtles up close.
Some of the beaches on North Shore Oahu are very rare places that sea turtles come to the beach and rest.  We also occasionally see endangered Hawaiian wildlife 'Ilio holo I ka uaua, Hawaiian Monk seal. There are only about 1400 seals left in the Hawaiian Islands. They are rare to see, but there is a chance to see them!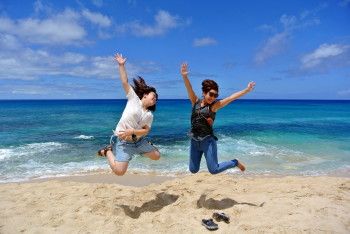 After you've enjoyed saltwater activities, you will try stand-up paddle. Stand-up paddle boarding is a very popular activity in Hawaii. You must try it! It is easy for everyone!
All the water activities will make you hungry! Let's go eat Famous garlic shrimp, your plate is waiting for you!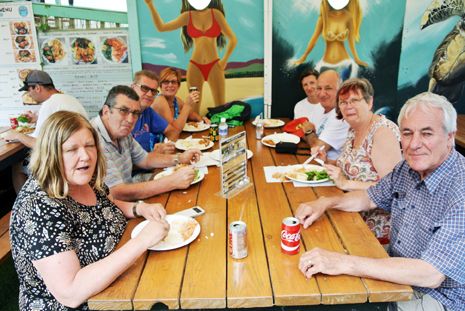 Duration from Waikiki: 8 hours
We pick up at Waikiki selected hotel – sit back and relax on the drive to North Shore.
Our North Shore and Hidden West Oahu Tours create unforgettable memories of Hawaii. Limited seats (max capacity 11 people). Book now!
Looking for custom private tour? Please go Hawaii Private tour page.
Do you still have questions about a tour with Hawaii Real Nature Tours? Please call us at 808-304-9193
or Email us.