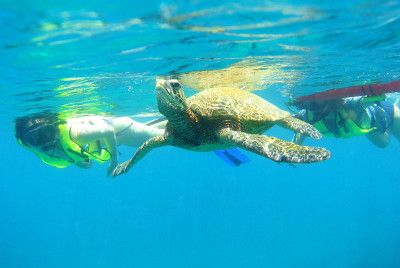 Finally, summer has come to the North Shore of Hawaii! The big waves normally disappears around March, but this year we had a good wave for surfers until May or even June, which means it wasn't a good condition for snorkeling, skin diving or free diving.
I have a question for you. Have you been snorkeling before? If the answer is NO, you must do it while you are in Hawaii. Why? Because you are wasting your life not experiencing one of the most incredible things you can do. A few of my previous guests that are friends on our Facebook page are telling me we changed their life. There is the first-time snorkeler and many of them now are looking for another Ocean to snorkel every year! They love the underwater world!
In Hawaiian warm water (actually not so warm, but it is warmer than California water!) is home of Honu (Hawaiian word for Hawaiian green sea turtles), a lot of exotic fish and sea life. Th waters are more calm with better visibility in summer. There are lots of reason you must go snorkeling at least once in your life time!
First-time snorkeler? Do you have children with you? Don't worry. We are professional snorkeling guides in Oahu, Hawaii. We will make it a very safe and enjoyable snorkeling time for sure.
Our most popular snorkeling tour is our North Shore Snorkeling Tour. It is about 1 hour of snorkeling time. We do a 9 am, 11:30 am or 2 pm tour. This tour doesn't include pick up service. You meet us at "Sharks Cove" in North Shore Oahu, which is a one hour drive from Waikiki area, and 20 minutes from Haleiwa town or North Shore Turtle Bay resort. Please remember traffic in North Shore on Kamehameha Hwy during summer is crazy, so leave enough time to come and meet us, especially if you book 11:30 am or 2 pm tours. Keep in mind there is always traffic.
North Shore Snorkeling tour detail and reservation click here.
North Shore Oahu is a populer pace for local surfers and tourists. You will not get bored. Grab a Kahuku garlic shrimp lunch plate and go to a beach. Haleiwa town has the popular shave ice, or try Acai bowl, Pitaya (dragon fruit) bowl, or Hulihuli chicken. Huli Huli means turn over in Hawaiian, and it is chicken BBQ'ed with Kiawe wood (Mesquite in English). Also don't forget to check out one of the local surf stores.
The Hawaiian sacred place Waimea Valley allows you many adventures including jumping from rocks at Waimea Bay, beautiful long beach for sunset, and even a few beaches where you can see the sea turtles sleeping on the beach (Do not touch or bother them!!).
On the way to North Shore or on the way to back to Waikiki there is local fruit stand (please note this place is super expensive. It is tourist trap… lol, but there are a lot of fruits if you don't mind paying double to try some!) There is the Dole plantation, coffee farms and macadamia nut farms as well. So if you are looking for souvanaires for your self or your friend back home just stop to see by these places what they have.
We do a private tour too, if you need help make your whole your Hawaii trip or need any recommendation please feel free to contact us! We are here to help.
Call, 808-304-9193
Email, HawaiiRealNature@gmail.com