Love SPAM? Then Enjoy Waikiki SPAM Jam!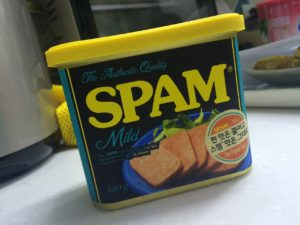 Waikiki Spam Jam is on April 28, 2018 from 4:00 pm to 10:00 pm
Did you know that Hawaii consumes more Spam than any state in our union — in total, 7 million cans a year.
When you come to Hawaii, you will find lots of food with spam, including the famus Spam Musubi (rice ball with spam on top). We are the only state that sells with McDonald's that actually sells spam for breakfast, "fried rice with spam".
Why do Hawaiians love Spam?
Let me tell you. The island's love affair with Spam began in World War II, when GIs were served the salty luncheon meat because it didn't require refrigeration and had a long shelf life. The Hormel Corporation, which manufactures Spam, provided 15 million cans to Allied troops every week. Between 1941 and 1945, Hormel had shipped over 100 million pounds overseas.
So celebrate the love for spam in Hawaii. We have "Spam Jam" which is a street festival that celebrates the people of Hawaii's love for SPAM.
You want to try Hawaiian style SPAM? There are restaurants you can try!
————————————–
Each place in the world seems to have its signature food festival. You may have heard about tomatoes, ribs, onions or pumpkins, but you have never heard of anything like this…a Spam® festival!?!
The annual Waikiki Spam® Jam, a cultural tradition in Hawaii, rated as one of the top annual food festivals in Hawaii.
The Waikiki Spam® Jam, which starts at 4:00 p.m. and ends at 10:00 p.m., is one of the most popular festivals in Hawaii because of its great food and entertainment in a family-friendly atmosphere. Local residents and visitors alike have made this an annual tradition. Last year, an estimated 25,000 people attended the event.
Kalakaua Avenue is closed to car traffic for the event, and three entertainment stages are set up on the street. Between the stages, several of Honolulu's finest restaurants will be serving up Spam® in many different ways, so you can experience the enormous variety of its applications. Two merchandise tents will be selling Spam®-themed items including t-shirts, shorts, sport balls, and slippers. A variety of Hawaiian craft booths will also be set up on the street.
There are no admission charges for enjoying the entertainment.
Here on our website you can find out what restaurant items will be served, the entertainment schedule, parking information and more!
During the Spam® Jam Street Festival, booths are set up by volunteers to help collect donations of Spam for the Hawaii Food Bank. Please bring down a can of Spam® to donate.
Introduced in 1937 by Hormel Foods, more Spam® is consumed more per person in Hawaii than in any other state in the United States. Almost seven million cans of Spam® are eaten every year in Hawaii.
If you want to be social, use the hashtag #SpamJam and follow us at @spamjam on Twitter and @waikikispamjam on Instagram. Facebook URL: www.facebook.com/WaikikiSpamJam
http://spamjamhawaii.com/
---
Don't forget to book a private tour while you are in Hawaii. We will take you around the amazing island of Oahu. It 's time to jump in the eat spam and jump in the beautiful waters of Hawaii! We offer Snorkeling, surf lessona, stand up paddle and kayak! Any requests are welcome. Check our website.
Call or whatsapp 808-304-9193
Email: Hawaiirealnature@gmail.com
Aloha nui loa