HOME >Hawaii Sacred Circle Island Tour in Oahu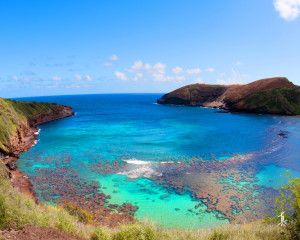 Oahu Sightseeing Tour – Small group Tours, Limited seating only 9 guests per tours. Hawaii Best Sightseeing tours and snorkeling tour in Oahu.
Sacred Hawaii circle island tour in Oahu (MON, WED, FRI)

Drive the world most beautiful coast on this Oahu Sightseeing Tour. This is unique around the island of Oahu tour. We are small group tours, we go where others doesn't. There are lots of places you will miss with large group tours. Our sacred Hawaii circle island tour go where there is very strong energy left. Few places are still protected by Hawaiian. They are KAPU means taboo. Show the respect when you visit there. We would like to ask bring water to share the AINA (ground) to application of  visitation.
We stop not only Hawaiian sacred places, we also cover the top scenic sites of Oahu such as Pali lookout, Makapuu lookout and Hanauma bay.
This is truly an unforgettable Hawaii Oahu island tour that's just too good to be missed. Get your tickets today book now!
Sacred Hawaii Circle Island Tour Highlights– What You Will See and Do:
Hanauma bay: Most beautiful reef in Oahu. See from the above.

Halona Blowhole:The blowhole is a natural occurrence formed by molten lava tubes from volcanic eruptions thousands of years ago.

Makapu'u lookout: Great scenic view of blue Hawaii.

Ku heiau : very sacred site please respect.

Makapu'u healing pool: When ancient Hawaiian had sad or stress feeling, they come into this tide pool to meditation.

Pali lookout: Historic valley

He'eia Fish Pond: Built approximately 600-800 years ago

Ka'a'awa valley: This is place of refuge in ancient Hawaii.

Mokoliʻi: 'little lizard' in Hawaiian, a.k.a China man's hut.

Laie point, Legend of Mo'o. Beautiful Ocean view

Puʻu o Mahuka Heiau: Largest heiau in Oahu. very sacred site please respect. Dedicated to god of the war Ku.

Hale o lono Heiau: Located at Waimea Valley Hawaiian scared place. Dedicated to Lono, deity of agriculture and fertility, peace and music.

Pohaku Lana'i: Sacred rock. Hawaiian believes they came from 'Kahiki,' (Tahiti.)

Turtle beach: Hawaiian green sea turtles love sleep on this beach.

Kukaniloko Birth Site: Hawaii sacred place. One of two sites set aside for the birth of royalty in Hawaii.
Duration from Waikiki: 9H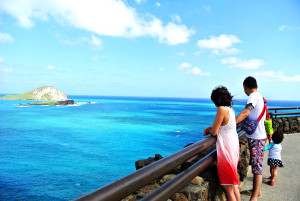 7:20 am – 7:40 am
Departure from Waikiki, pick up from selected hotel in only Waikiki. – sit back and relax for the 45 minute drive to first stop North Shore Hawaii
8:30 am – 11:30 am
Tour of Deep North Shore, sacred Hawaii places – plenty of great photos opportunities. (Photo package is available $30 online purchase.)
11:30 am – 12 pm
No-host lunch stop at a famous North Shore shrimp wagon. (average $12 or up) There is NO vegetarian option, you must tell us before the tour start.
12pm Continue to the drive around the island. Going to East and South of Oahu.
4:00 pm
Back in Waikiki