Meet the Hawaii Real Nature Team.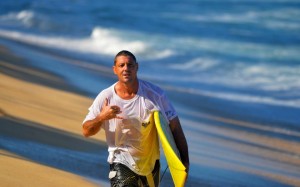 Robert~
Raised in the Hawaiian Islands, Robert started surfing at a young age and eventually became a surf photographer. From surf lover to photographing the famed Triple Crown of Surfing, today he specializes in big wave surf photography. He's lived on Hawaii's North Shore for over 25 years and when big waves hit Surf Mecca, you can be sure to find him there, with his camera! Robert is also an experienced surfing instructor, so even 40 – 60 ft waves provide the perfect backdrop for adventure and incredible photography. Check out some of Robert's work at: 808surfshots.com
CPR, AED and First Aid Certification by Advanced Medical Certification
Certificate of Professional Development in Ocean Safety – University of Hawaii Windward Community College
Akima~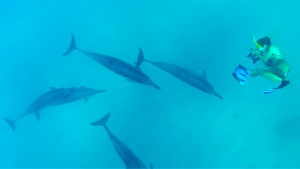 Born and raised in Tokyo, Japan, Akima started SCUBA diving in 1996 where her fascination and love of the underwater world and marine life inspired her to travel the world. In 4 short – an adventure filled – years she completed her NAUI Life Support First Aid Instructor, Rescue Diver, and Divemaster certifications. She trained on Australia's world famous wonder, the Great Barrier Reef and has worked as a Diving Guide in Cairns, Australia; Okinawa, Japan; and Palawan Philippines, a Chief Snorkeling Guide at Hanauma Bay, Honolulu and as Cruise Director, Snorkeling Guide and Life Guard on a West Oahu snorkeling boat. Akima has lived in Japan, Australia, New Zealand, the Philippines, and Canada and visited over 30 countries. While she pursued her love of travel and ocean marine life, she also honed her skills as a professional underwater photographer. Check out Akima's photography at: Photo Gallery ZERO.com
Akima also offers a skin diving, freediving courses, marine and wildlife encounters, swimming with dolphins, whales and orcas experiences. Visit AkimasQuality.com or contact Akima to learn more about creating your own unique experience.
NAUI Rescue diver, dive master
CPR, AED and First Aid Certification by Advanced Medical Certification
Freediver L1 Certification by FII (Freediving Instructors International)
——————————-
Hawaii Real Nature – Oahu Tour Company
Aloha!
My name is Akima, I am professional underwater and nature photographer, who has fallen in love with the beauty of Hawaii. I am one of the owners of Hawaii Real Nature. We operate Hawaii island tours on the islands of Oahu and Maui. There is so much to see and explore in Hawaii and our tours aim to help you capture the essence of the islands. We offer group tours, snorkeling tours, north shore tours (with surf lessons!), private group sightseeing tours and more. As a photographer, I would love to share my photography experience with you as we explore the beauty of the Hawaiian islands.
Professional photography is included with all of our tours and one thing that set us apart. We look forward to you experiencing of the most pristine destinations in the world.
 ~ Akima Kai
Island of Oahu Tours
I call Oahu "Blue Hawaii". There are three MUST go locations where we will experience the essence of "Blue Hawaii" from a photographers point of view. The "Blue Hawaii" experience includes a lot of white sand beaches. The color of the sand is what makes the Ocean color appear really clear blue. Additionally, the view from the road, looking over the black lava to the blue Ocean is a feast for the eyes. We offer tour adventures in Oahu, including group sightseeing tours, private tours, snorkeling tours, North Shore Turtle Beach snorkeling tours, and more.
On the North Shore we explore the 7 miles miracle…beach, after beach, after beach. Discover Hawaiian Sacred Places, Oceans of Pineapple and Local Coffee Farms. Ask about our fully guided private North Shore Tour. Discover the history and Hawaiian legend as we seek out the best snorkeling the North Shore has to offer. Available in summer!
Island of Maui Tours
Maui, known as the "Valley Isle", is very special Island. It is the second largest Hawaiian island. Legend has it that the demi-god, MAUI, fished this island out of the sea. I call Maui, the Island of Green. One of the "Must See" locations includes the "Road to Hana", with it's 620 curves and 59 bridges, and I don't even know how many waterfalls. Take a deep breath, pull in the energy from nature, and forget about the city as you explore Maui.
Maui is also absolutely wonderful for snorkeling. All of our guides are snorkel rescue trained, CPR Certified and Watersport Professionals. This ensures you are safe and you will have enjoyable time in the water!
Private Tours in Oahu or Maui
Please contact us.