Details
In your small group tour, you'll visit some of Hawaii's most sacred places, historic sites, isolated beaches and secret bays. After we take you to the end of the road (literally!) on the exciting land tour portion, you'll experience one of the best snorkeling sites on the West Shore. The calm waters of the Pacific invite you to snorkel in an underwater paradise of tropical fish, Hawaiian sea turtles, and maybe even dolphins!
Departure/ Return Location
Waikiki selected Hotels/Ko Olina Resorts
Departure Time
7:20 am to 8:30 am depends on the hotel locations
Return Time
Approximately 1:30 pm to 2:30 pm depends on the hotel locations
What to bring
Swim suite, towel, water bottle, sunglasses, dry clothes for after snorkeling
Included

Professional Instructor
Snorkeling Gear

Not Included

Lunch
Instructor Gratuity
Itinerary
Itinerary
7.30 AM – 8.30 AM: Transportation
9.00AM: First Scenic Place
9.30 AM: Stop At Shopping Center (buy lunch)
9:30 AM – 11.30 AM: Heading to deep hidden gem
11.30 AM – 1.30 PM: Lunch at beach and snorkeling
2.30 PM – 3.00 PM: Return
FAQ
FAQ
Q: Is this only snorkeling tour?
A: No, we stop few places such as scenic points, spiritual valley, sacred cave etc then go to snorkeling at end of a tour.
Q: Are you go on the boat for snorkeling?
A: No, it is beach entry so you don't have to worry about seasick.
Q: Do you pick up at Ko Olina resort?
A: Yes we do. We will pick up at all resort hotels at Ko Olina hotels.
Q: Which hotels do you pick up? (click to see map)
A: Waikiki Prince, Sheraton Waikiki, Waikiki Beach Marriott, Four seasons resort, Aulani Disney resort, Marriott vacation club.
Q: What are we going to do a lunch?
A: We are going to stop at a shopping center to buy your lunch. There are a subway, McDonald and glossary store to buy salad, sandwich etc. (No host lunch)
Q: What should we bring?
A: You may wear a swim suit under your clothes. Towel, water, sunglasses. Please bring dry clothes you cannot sit with a wet swimsuit on our van.
Q: Can we eat/drink on the vehicle.
A: Yes and No. Please do not bring coffee/tea cup or can drink. Screw top drinks are fine.
Q: We have never been to snorkeling before, can we still book?
A: Why not! The beach we go is very calm water and we have floating device (life jacket) free of charge also our professional snorkeling instructor go with you in the water.
Q: I have asthma, can I still book?
A: You are welcome to come to the west Oahu tour but we don't really recommend going to snorkeling if you have asthma, heart problem. If you don't mind to spend time on the beach while we are snorkeling yes you may.
Q: I have a disability, can I still book?
A: As long as you can step up/off from our van why not but no space for wheelchair sorry.
Snorkeling: it really depends on what your disability We are a pleasure to help you as much as we can. please contact us!
Q: What is your cancellation policy? (This only applies who booked direct with us. If you book with third party please see cancellation policy there.)
A: Reservations canceled at least 73 hours prior to the tour receive a 100% refund. No refunds will be issued for cancellations within 73 hours or no shows. Tour date can be changed for a fee: 20% of tour fee within 73 hours. No change fee if over 73 hours before your tour date.
Photos
Book Now
More Information
Hidden Gem, West Oahu Land and Snorkeling Tour
Pick up services are available from Waikiki selected hotels and Ko Olina resorts.
Small group Tours, Limited seating only 10 guests per tours. Hawaii Best Sightseeing tours and snorkeling tour in Oahu.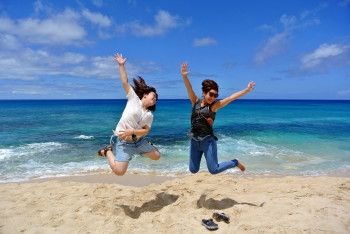 Get ready for a Hawaii Snorkeling Tour on this West Oahu adventure unlike any other. This is the only sightseeing tour that takes you to the beautiful West shore in Oahu –  which is still largely undeveloped. Discover hidden valleys, visit a 150,000-year-old sacred cave, explore an ancient Hawaiian settlement and sink your toes into the white powdery sand at secluded beaches.
A visit to Oahu's west (leeward) coast offers a welcome break from the hustle and bustle of city life. When you are out here, taking in all the gorgeous views of the lush mountains and valleys, it's hard to imagine that you are still on Oahu.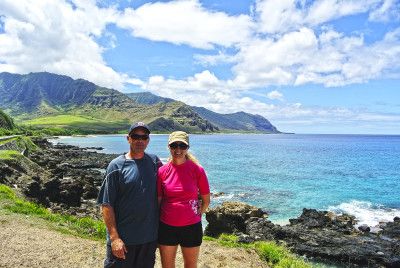 After the land portion of this West Oahu Land and Snorkeling Tour, get ready for a refreshing dip in the ocean. We will take you to a prime snorkeling spot. It is home to much colorful tropical fish and Hawaiian green sea turtles (Honu). All snorkeling gear and life jackets will be provided. In case you don't want to go snorkeling, you can go swimming, wading in the water or relax on the beach.      
We cater to beginners through experienced snorkelers. First-time snorkeler? Don't worry, as we mentioned we have professional snorkel instructors/guides. Also, groups are kept small and personal with a maximum of 10 participants. Choose the snorkel tours with a snorkel guide or instructors for your safety and enjoyable day in Hawaii.
This is truly unforgettable, just too good to be missed.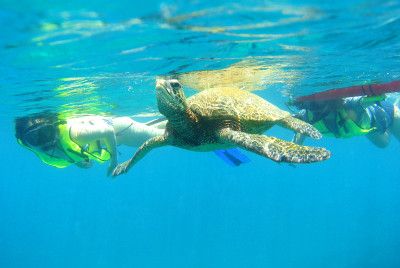 Duration from Waikiki: 6-7 hours We pick up at Waikiki selected hotel and Ko Olina resort – sit back and relax on the drive to Oahu's West shore. Please wait for us 5 minutes before to avoid miss the tour without refund. (If you don't see your hotel below click here to see the closest hotel pick up.) 
7:25am Prince Waikiki Hotel harbor side. Click here to see on a map.
 7:30am Lewers St front of QuickSilver next to the Hokulani Velet parking counter. Click here to see on a map.
 7:40am Waikiki Beach Marriott-Shuttle waiting area Paoakalani Ave side. Click here to see on a map.
 8:30am Ko Olina Resorts.
  Looking for Custom private tour?  Please go Hawaii Private tour page
Do you still have questions about Hawaii Real Nature Tour? Please call us at (808)304-9193
or Email us.
 Ancient Hawaiian settlements. It's very rare site Hawaiian historic site still remain on the shore line.
View of historic Makaha Valley. Legend with the goddess of rain.
Birthplace of big-wave surfing .
Drive though most sacred valley in Hawaii. Where Mana (natural spirit/power) is coming back and beautiful beach.
Explore a heiau (Hawaiian temple.)is believed to have been a heiau of learning and training of ocean-related skills.
See the mountain, consider sacred to Kane, the Highest Hawaiian god. Father of all living creatures.
Guided Snorkeling in West Oahu Hawaii! Home of Hawaiian green sea turtles! (about an hour snorkeling time.)