Home>Hanauma bay snorkeling tour
Hanauma bay is a protected marine life conservation area, one of the most popular snorkeling spot in Oahu Hawaii and voted the best beach in the USA in 2016. It is Hawaii nature preserve, very calm water, a lot of tropical fish and a several lifeguards on duty. Great for family fun, first-time snorkeler, snorkeling beginner.
Please note: Almost all beaches in Oahu there is no shade. Make sure you put sunscreen on BEFORE you go to beaches. We do recommend to bring rash guard or some sort of clothes you can hide from strong sun light (UV) while you are on the beach especially for your children.
#1 Recommendation Hanauma bay Guided snorkeling Tour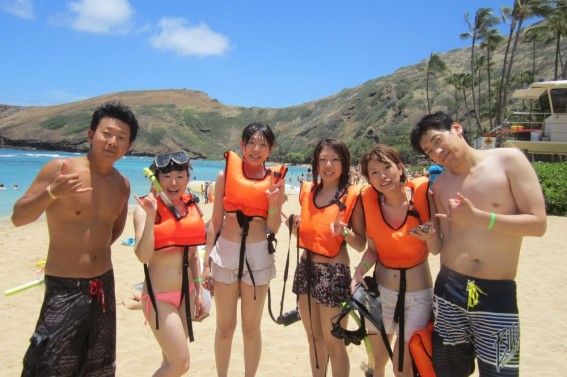 Our instructors have Hanauma Bay permits that you can skip waiting in the long line at the entrance!
Never been snorkeling before? Our expert guides will teach you to step by step.
 Small group tour. 5 guests per snorkel instructor.
An instructor will show you where the Hawaiian green sea turtle is. (it is wild animals. It is not guaranteed to see them.)
Includes All day Trolley Pass in Hanauma Bay of $2
Includes Hanauma Bay Entrance Fee of $7.50
Hanauma bay snorkeling package
This is NOT guided tour. This package includes a dry snorkel, mask, fins and a life vest.  You can choose from 3 picks up times from various hotels in Waikiki.  There is a $7.50 admission fee that is not included in this package.